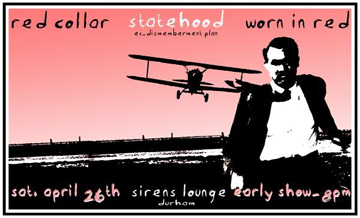 More shows coming up this weekend. We're hooking up with Worn in Red for a show in Harrisonburg, VA followed by another in Durham, NC. Driving around Virginia and North Carolina in the spring, not a bad way to spend a weekend at all. If you live in or near those towns, how about a nice spring drive to be deafened by rock? Perfect, see you there.
The spring break tour went well, aside from the not-so-spring weather. We had snow and temps below 35 the whole time and a van with not-so-good heat. I wore thermals and gloves and was fine, but we must have looked funny to the other cars as we sat all bundled up with hats on. There were good times with Kid You'll Move Mountains and Javelins, and we're hoping that we can play with both bands again in the near future. Maybe for the summer tour? Maybe it won't snow then.
We're taking May off from playing shows, but will be back in effect for the summer. Many new songs on the horizon to boot.